A Guide to Supporting BLACK Creatives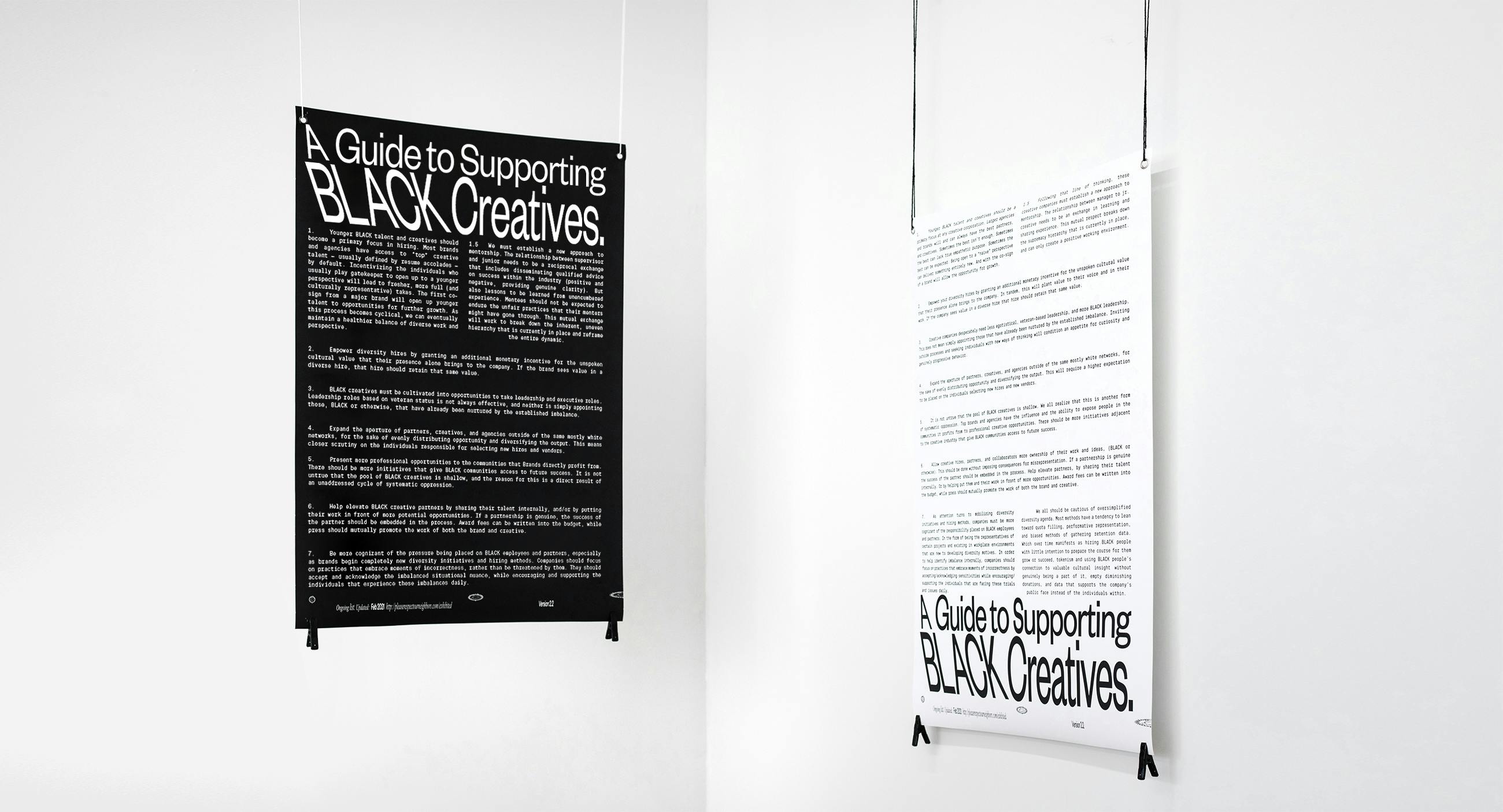 After spending the summer of 2020, in the wake George Floyd's murder and the height of the BLACK LIVES MATTER movement. Our small collective group wrote a letter to Brands and Creative companies that addresses a universal uncouth standard toward BLACK and Persons of Color that has been allowed to fester.  Our objective is to address the day to day imbalance that BLACK creatives face. Offering suggestions toward what can immediately acted on to start to break the cycles of systemic supremacy and help guide companies to genuine supportive gestures that avoid fruitless posturing.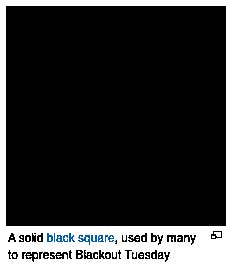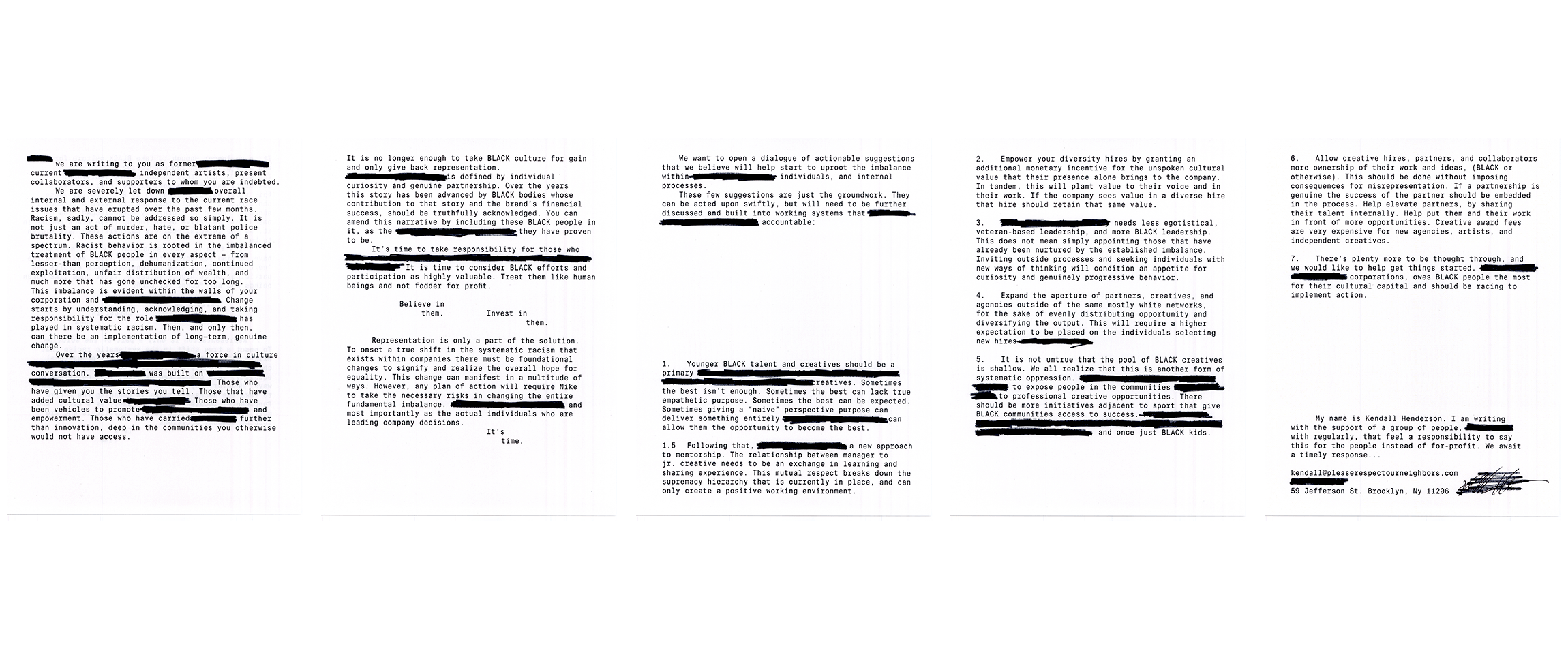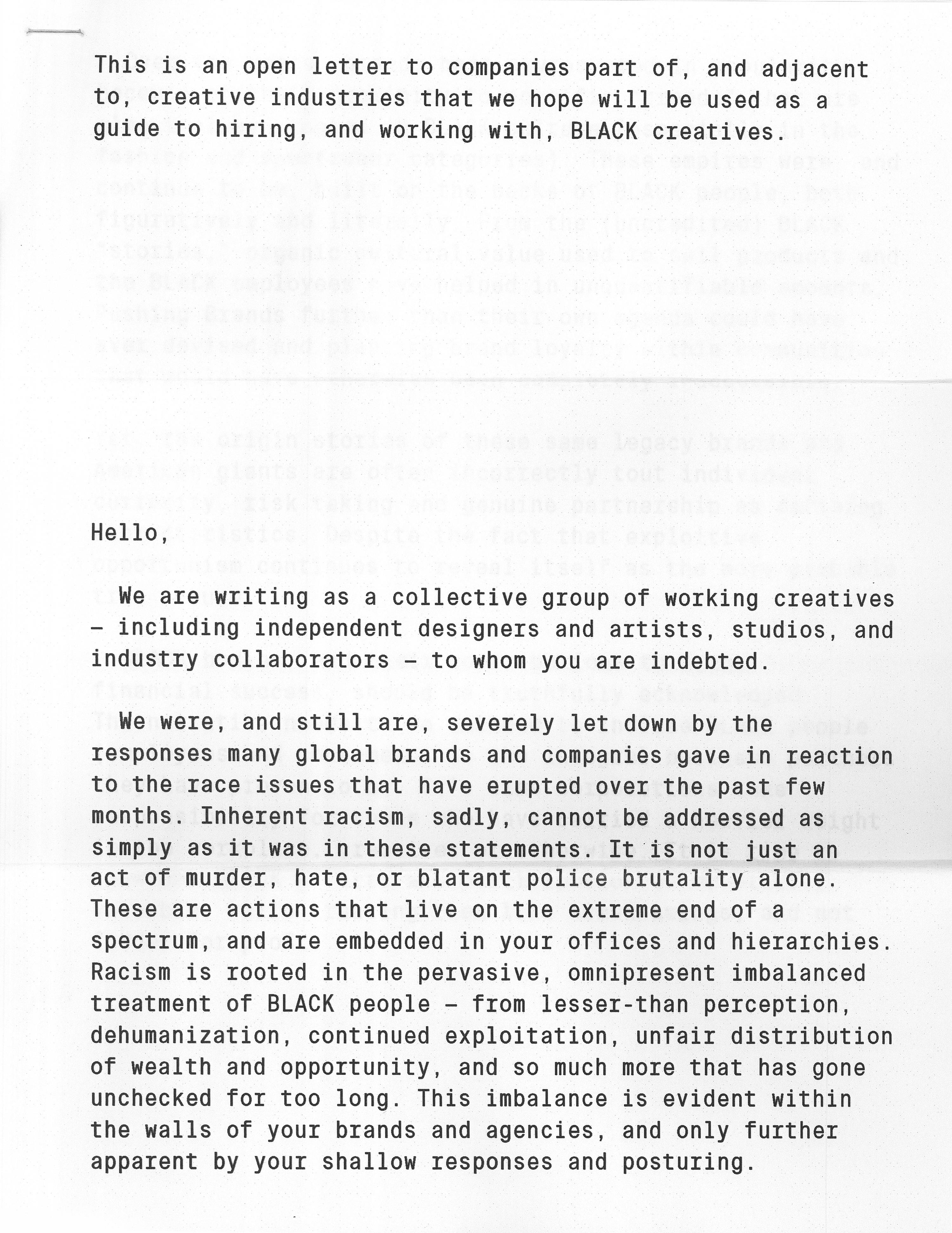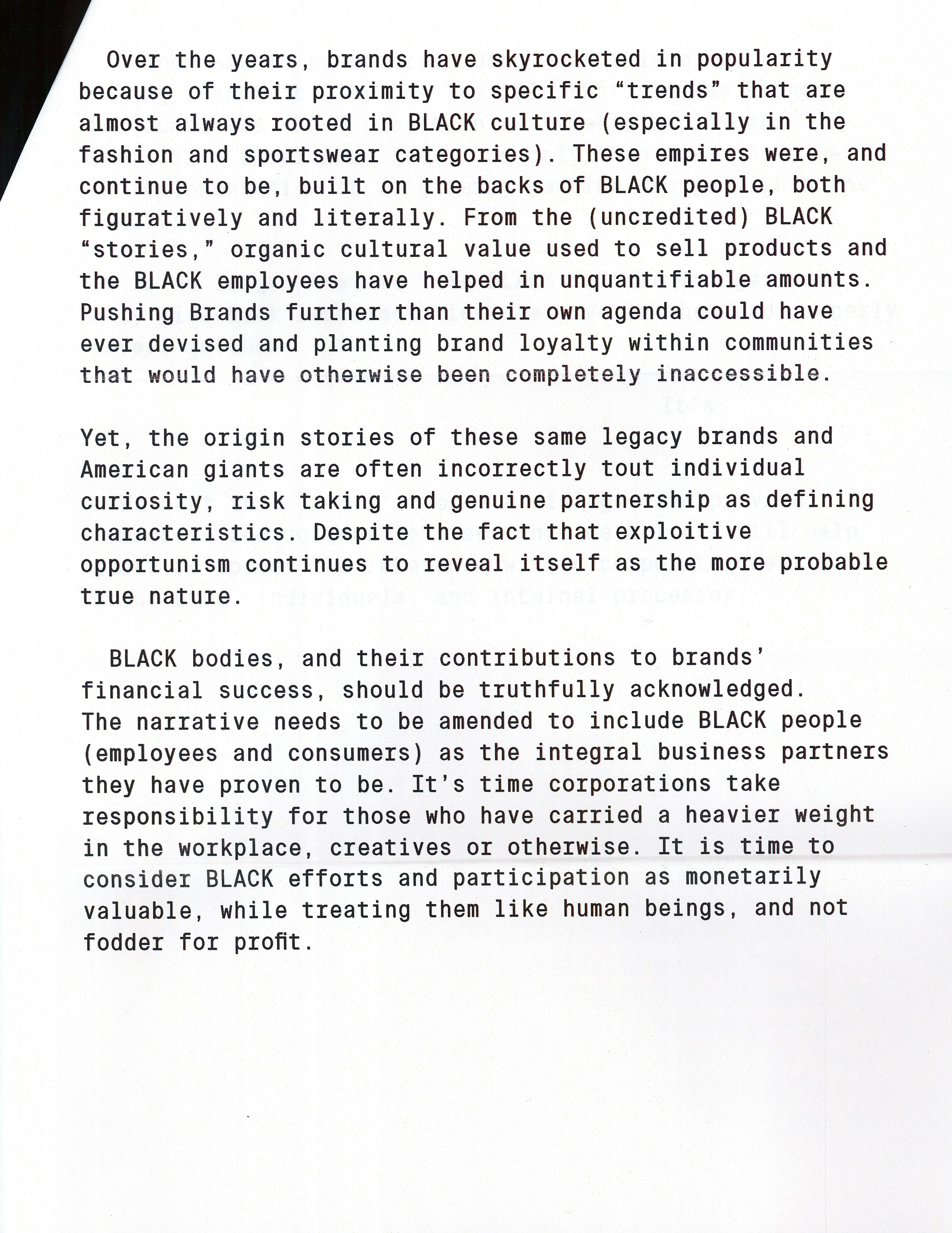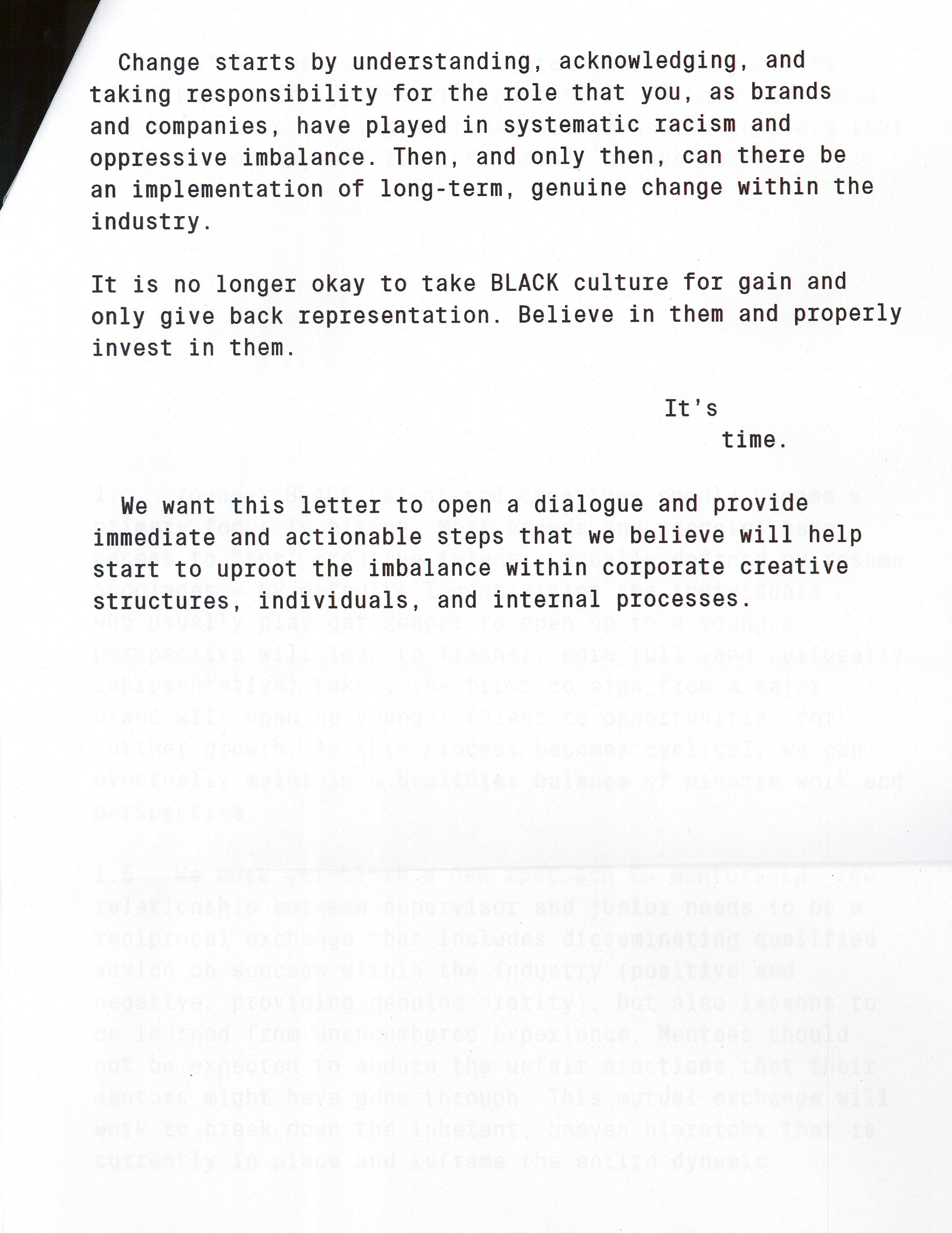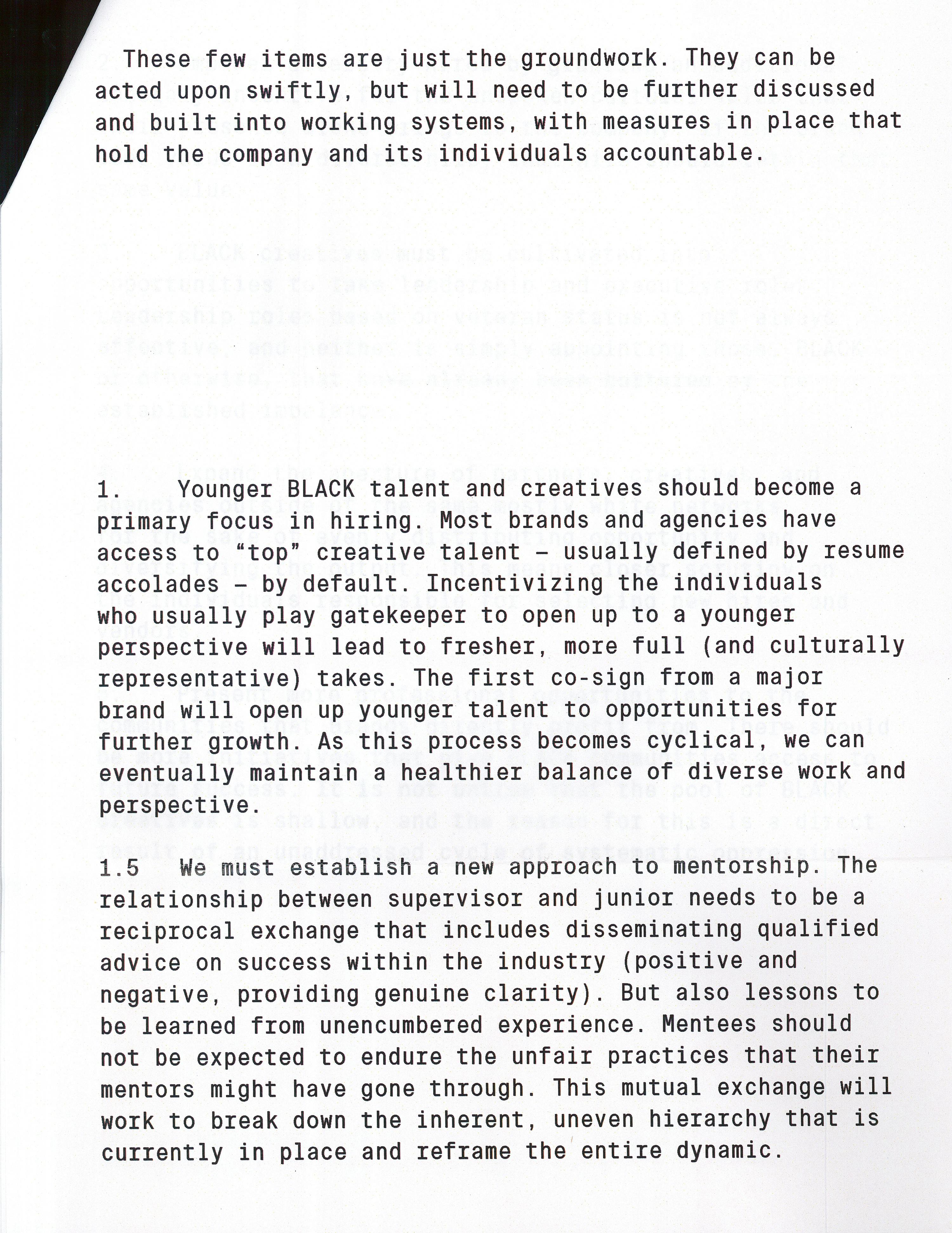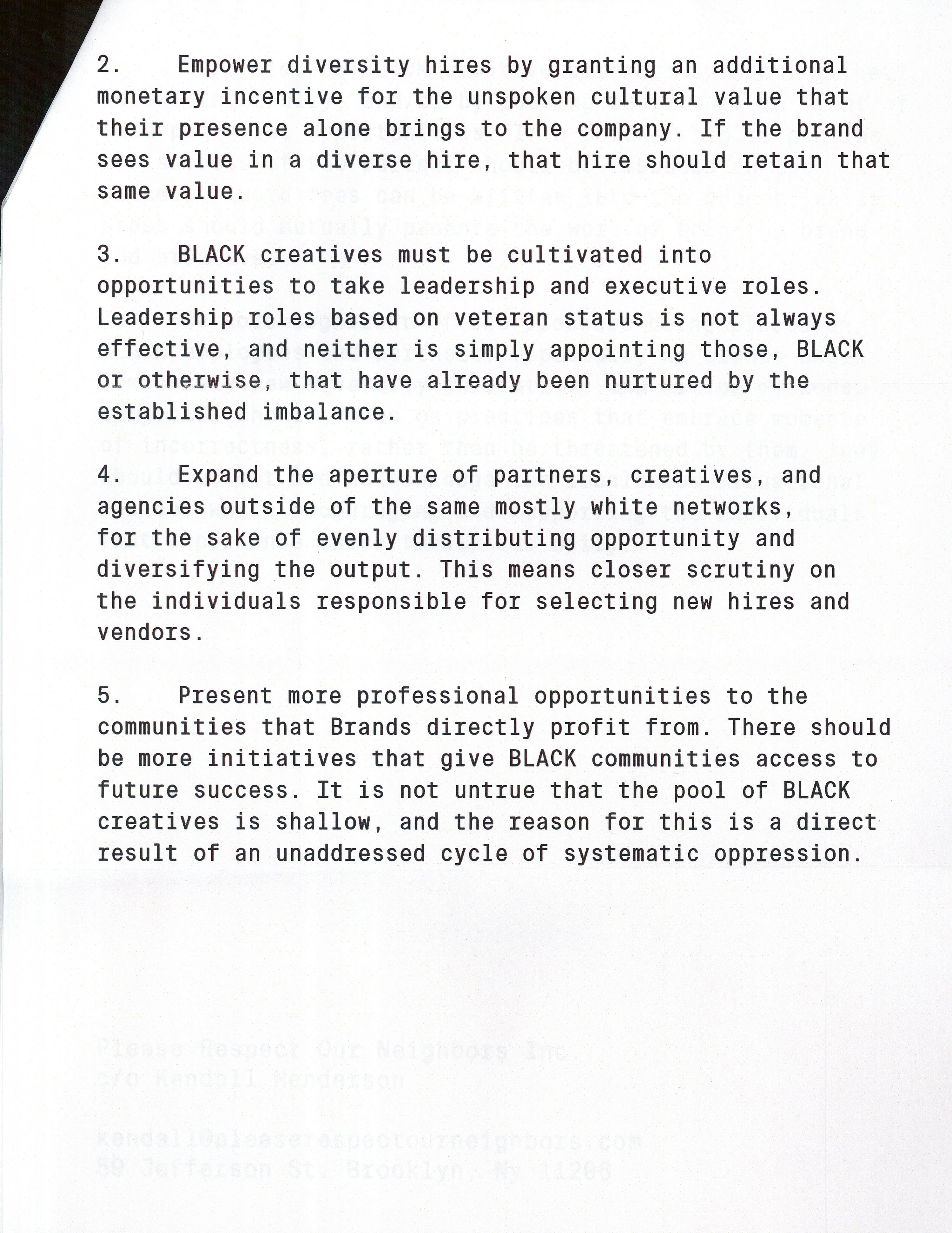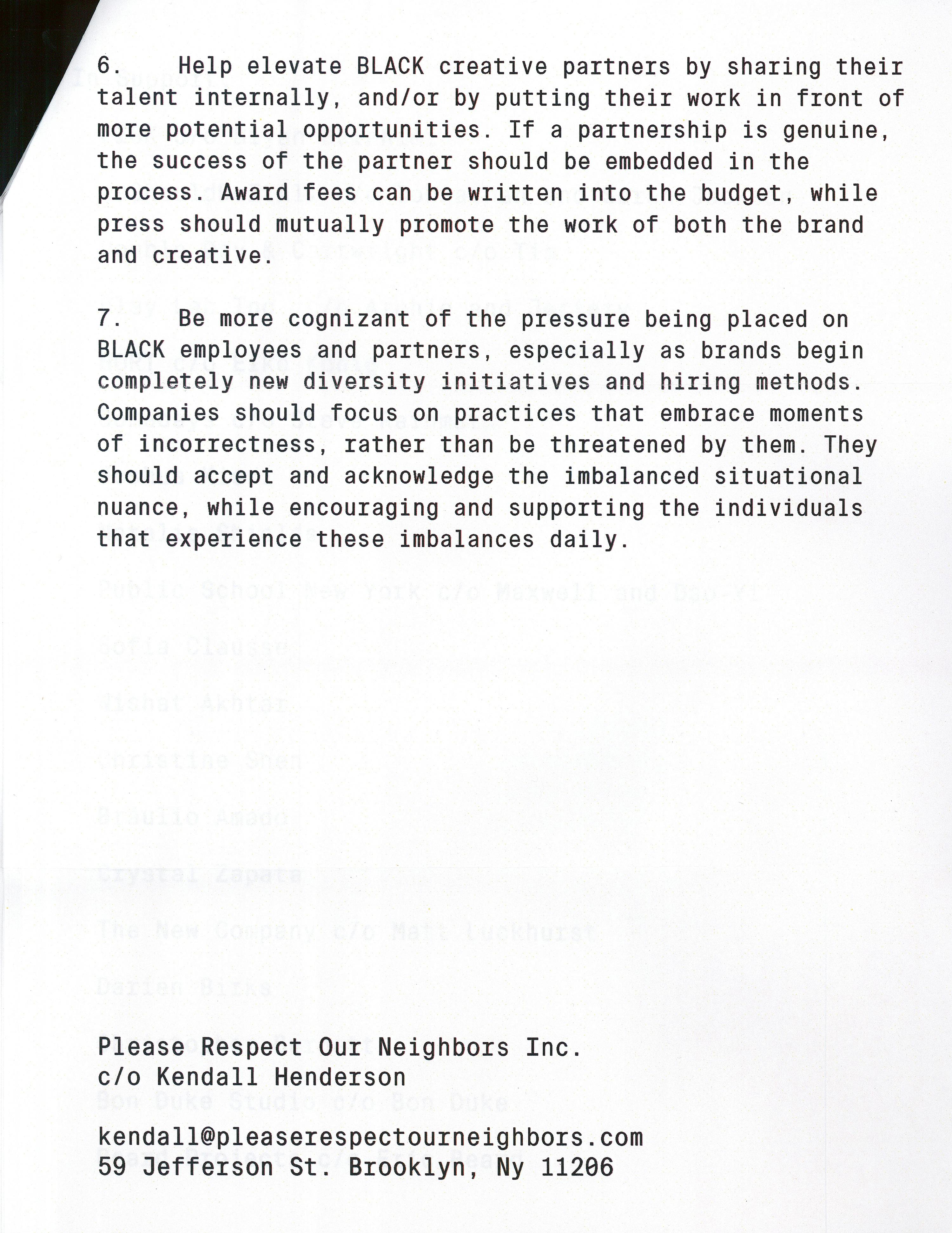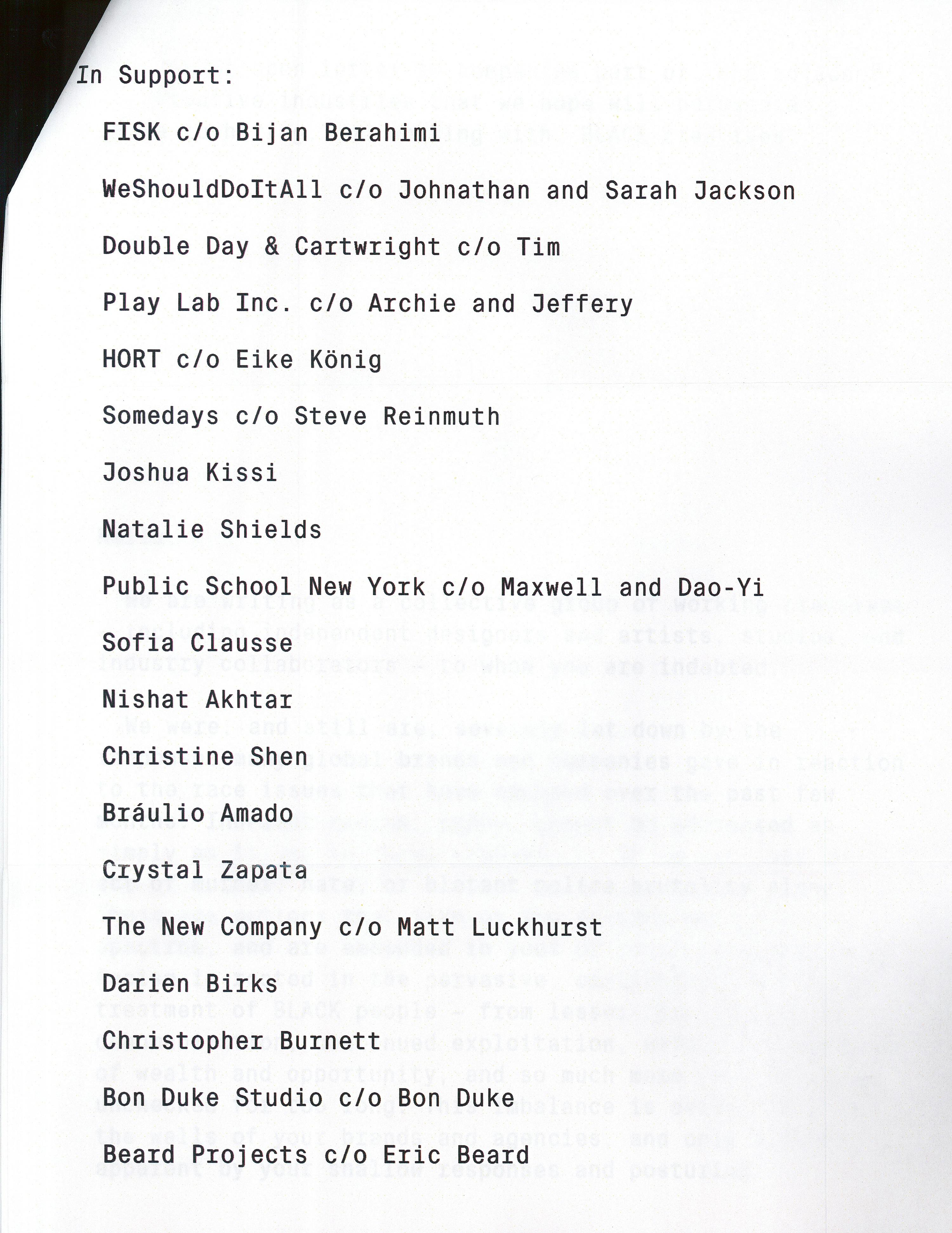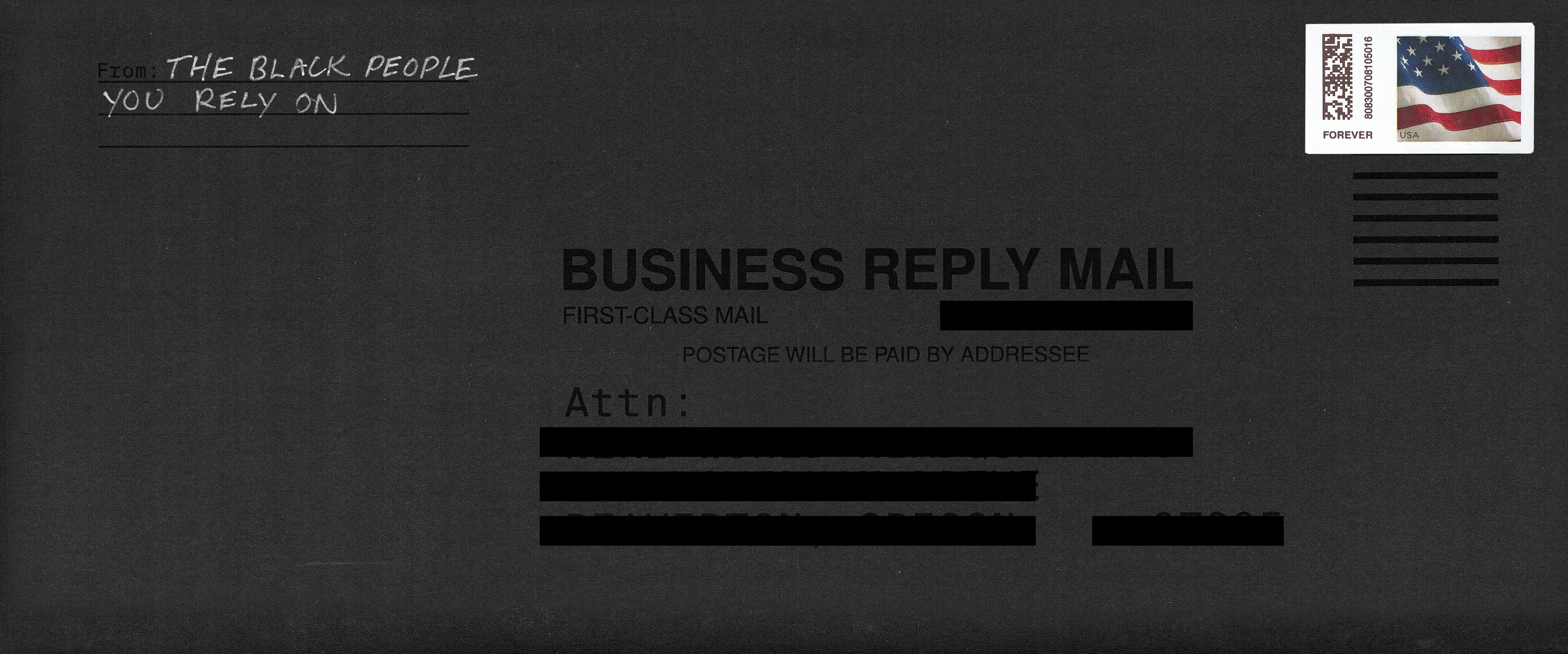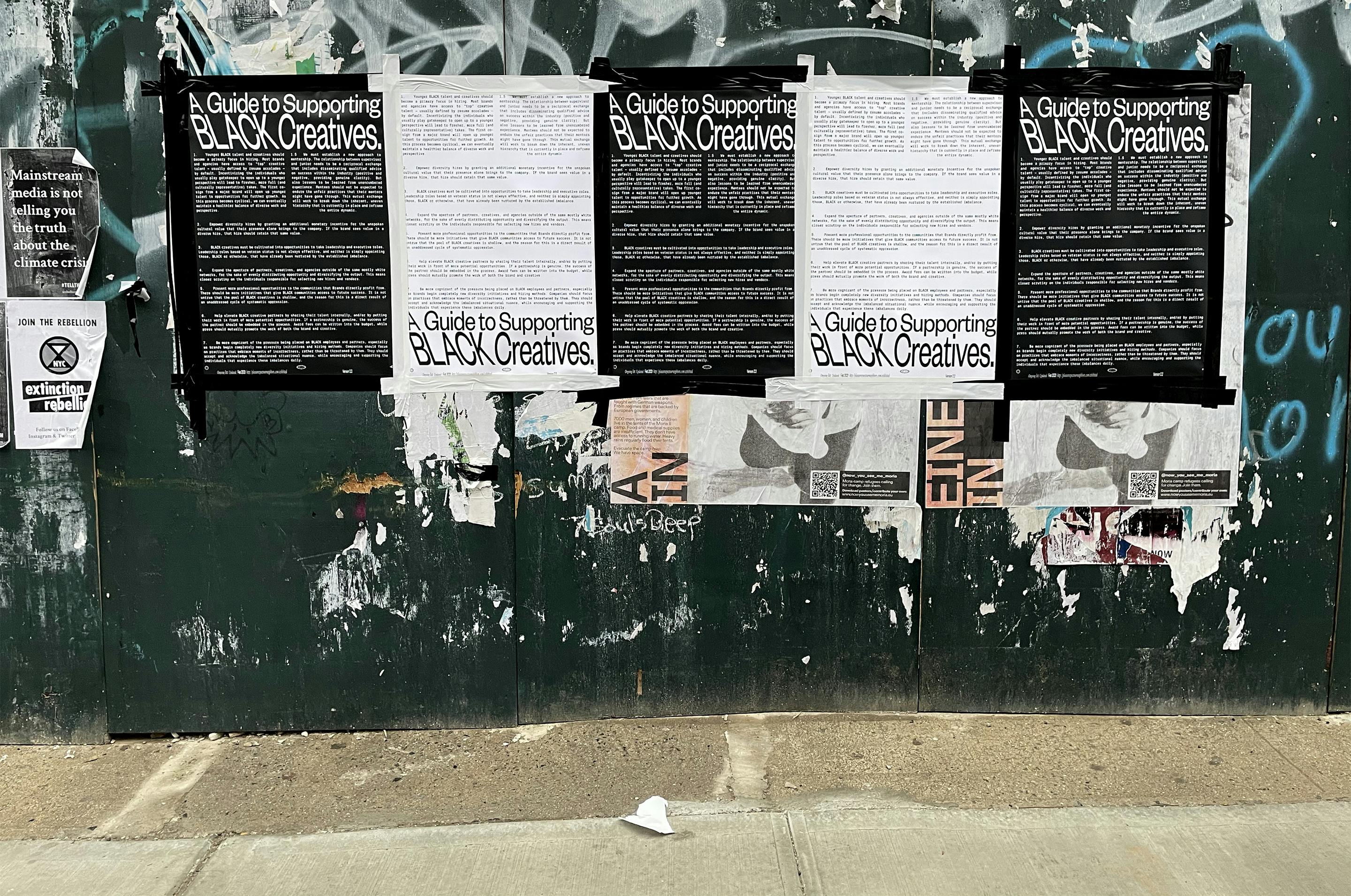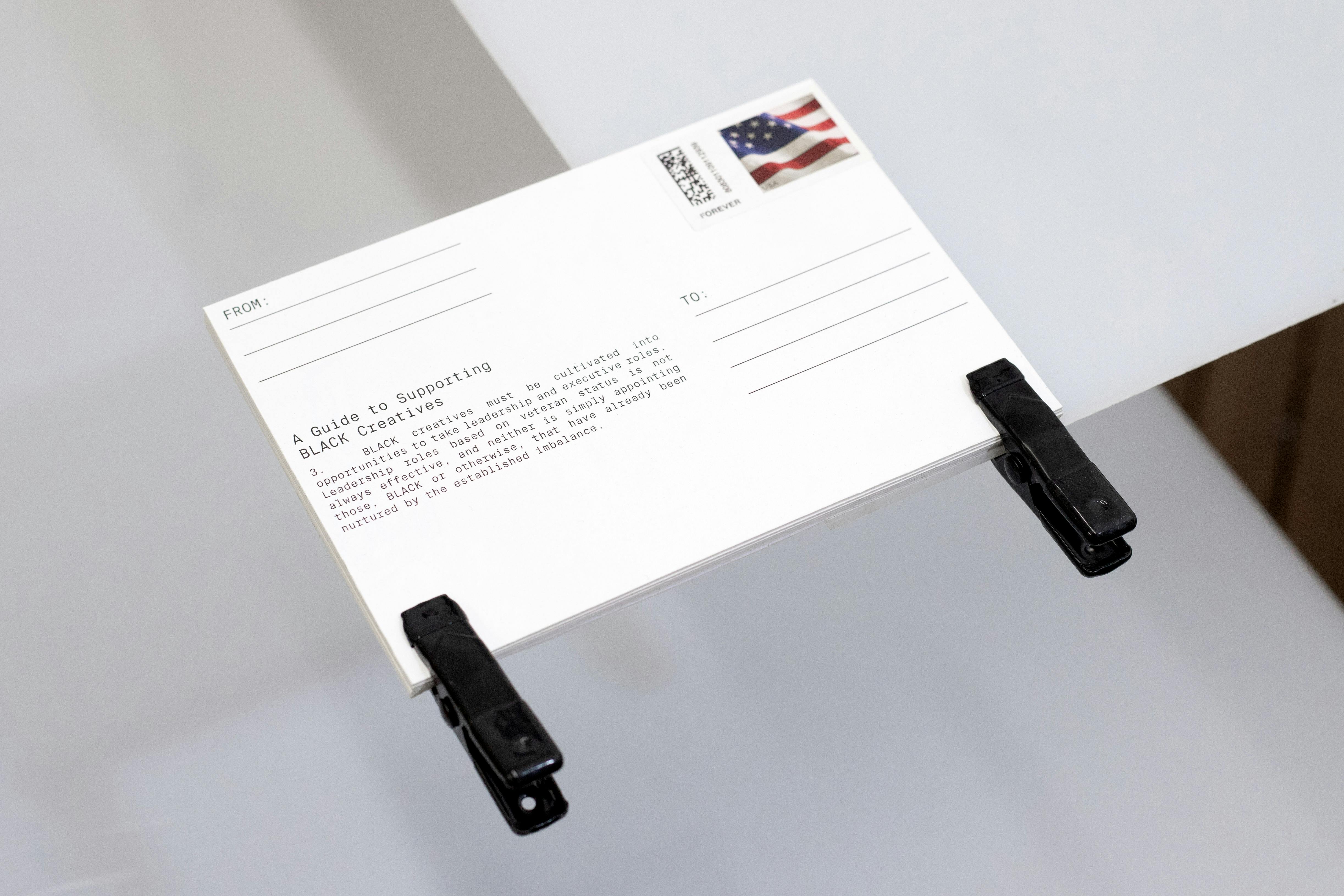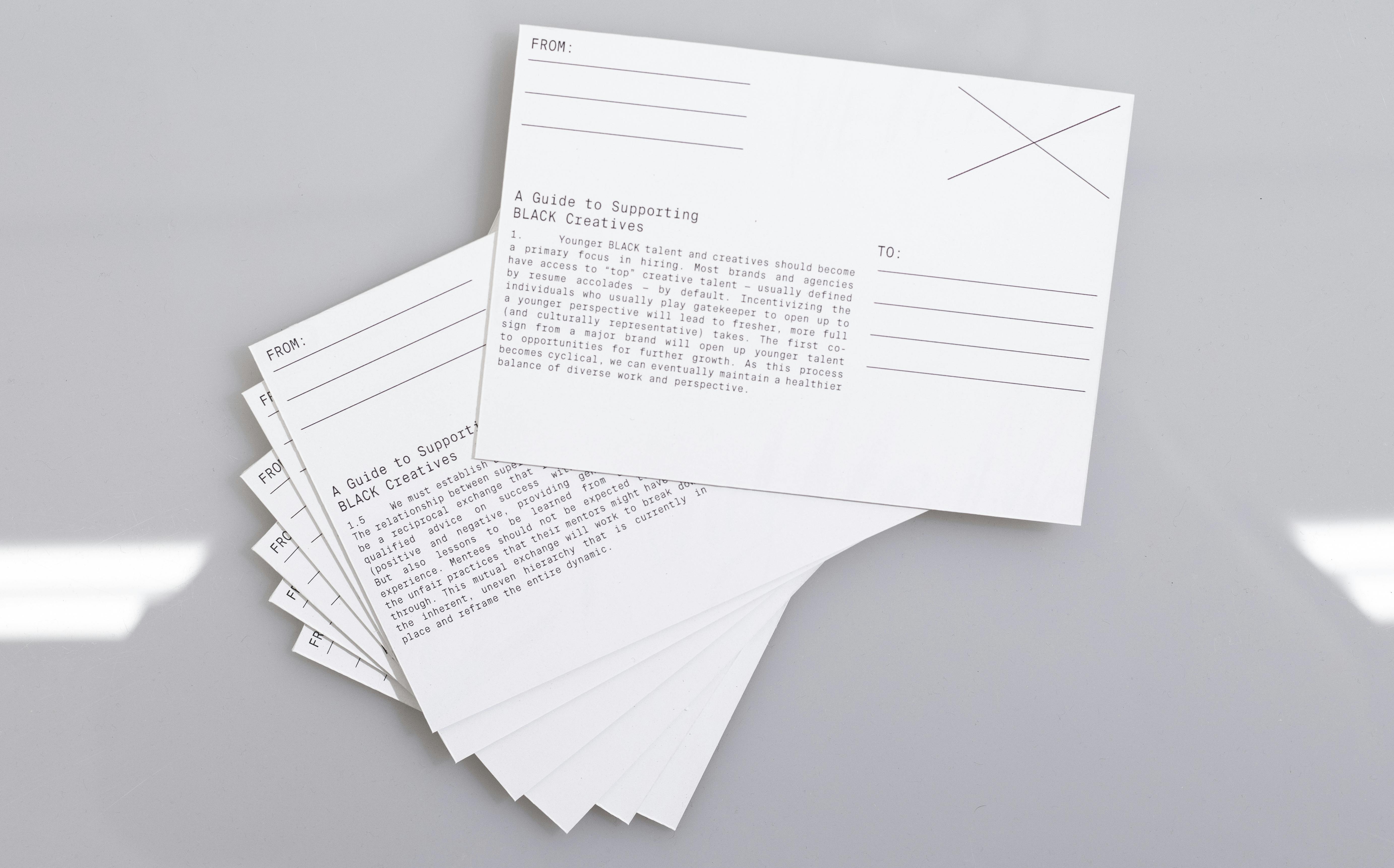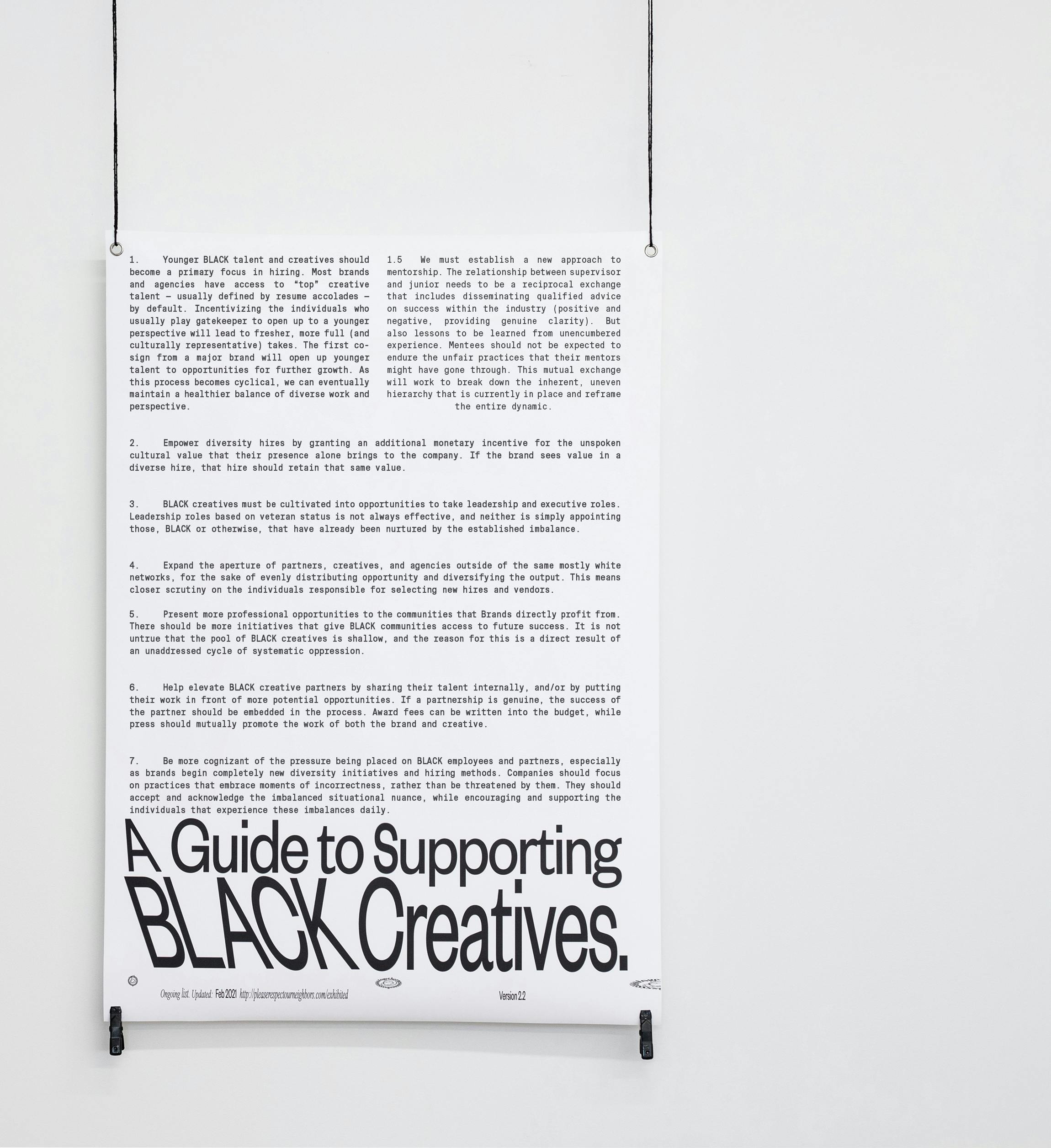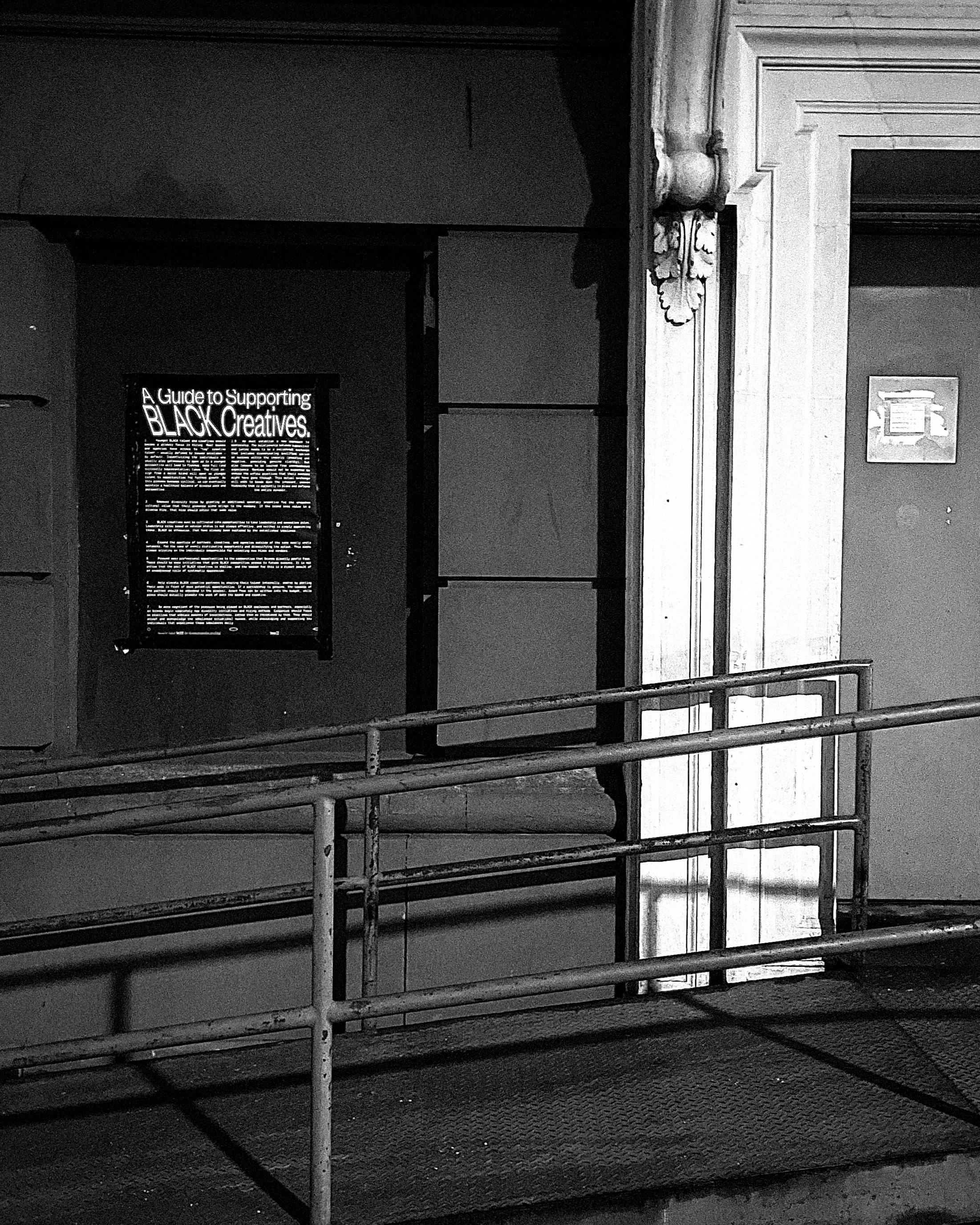 27
02
2021
This list of suggestions will continue to be updated.
1. Younger BLACK talent and creatives should become a primary focus in hiring. Most brands and agencies have access to "top" creative talent — usually defined by resume accolades — by default. Incentivizing the individuals who usually play gatekeeper to open up to a younger perspective will lead to fresher, more full (and culturally representative) takes. The first co-sign from a major brand will open up younger talent to opportunities for further growth. As this process becomes cyclical, we can eventually maintain a healthier balance of diverse work and perspective. 
1.5 We must establish a new approach to mentorship. The relationship between supervisor and junior needs to be a reciprocal exchange that includes disseminating qualified advice on success within the industry (positive and negative, providing genuine clarity). But also lessons to be learned from unencumbered experience. Mentees should not be expected to endure the unfair practices that their mentors might have gone through. This mutual exchange will work to break down the inherent, uneven hierarchy that is currently in place and reframe the entire exchange.. 
2. Empower diversity hires by granting an additional monetary incentive for the unspoken cultural value that their presence alone brings to the company. If the brand sees value in a diverse hire, that hire should retain that same value.
3. BLACK creatives must be cultivated into opportunities to take leadership and executive roles. Leadership roles based on veteran status is not always effective, and neither is simply appointing those, BLACK or otherwise, that have already been nurtured by the established imbalance. 
4. Expand the aperture of partners, creatives, and agencies outside of the same mostly white networks, for the sake of evenly distributing opportunity and diversifying the output. This means closer scrutiny on the individuals responsible for selecting new hires and vendors. 
5. Present more professional opportunities to the communities that Brands directly profit from. There should be more initiatives that give BLACK communities access to future success. It is not untrue that the pool of BLACK creatives is shallow, and the reason for this is a direct result of an unaddressed cycle of systematic oppression.
6. Help elevate BLACK creative partners by sharing their talent internally, and/or by putting their work in front of more potential opportunities. If a partnership is genuine, the success of the partner should be embedded in the process. Award fees can be written into the budget, while press should mutually promote the work of both the brand and creative. 
7. Be more cognizant of the pressure being placed on BLACK employees and partners, especially as brands begin completely new diversity initiatives and hiring methods. Companies should focus on practices that embrace moments of incorrectness, rather than be threatened by them. They should accept and acknowledge the imbalanced situational nuance, while encouraging and supporting the individuals that experience these imbalances daily.